Music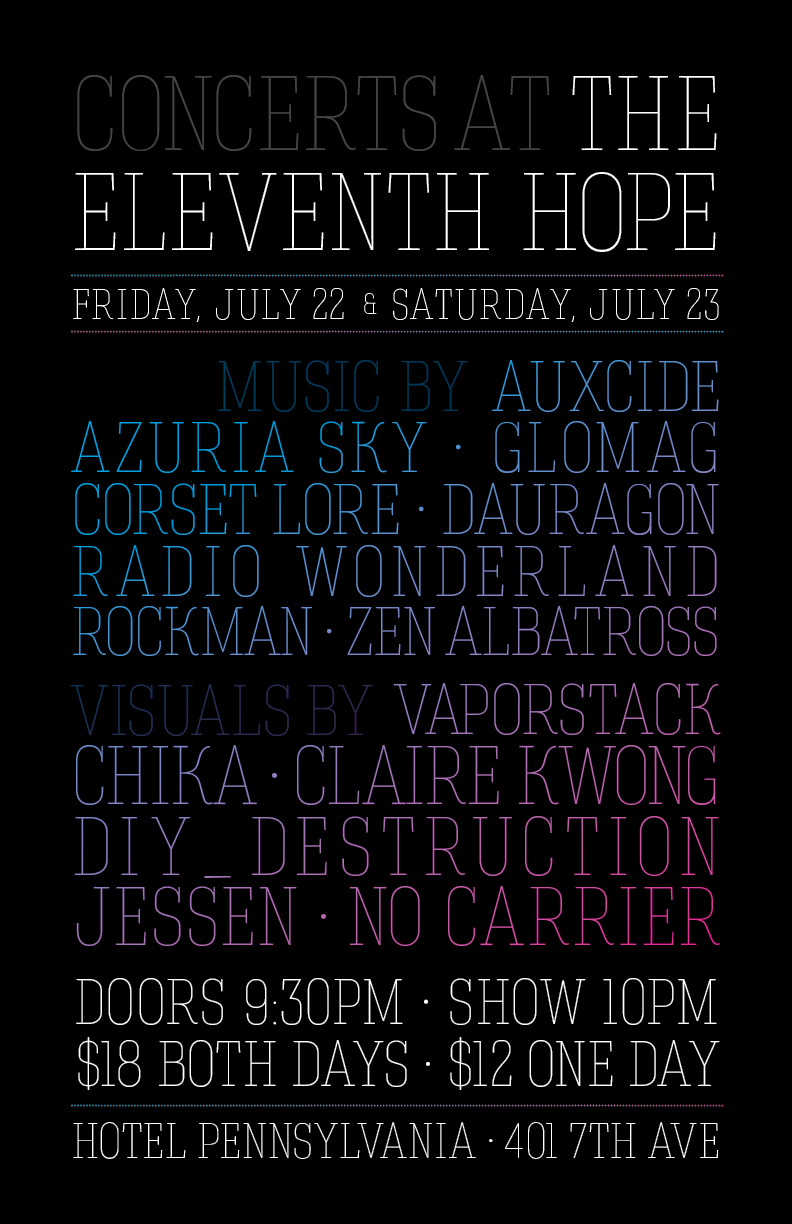 Concerts at The Eleventh HOPE!
Game Boys, radios, modular synths and more at The Eleventh Hackers on Planet Earth concerts! Join us for two nights of music and visuals on Friday and Saturday nights of the conference! This show is open to the general public and free of charge to HOPE attendees and will take place at the front left space of Hotel Pennsylvania (closer to 33rd St.) —the same location as past HOPE concerts. See directions with a link to Google Maps below.
DOORS - 930PM
SHOWTIME - 10PM
$12 EACH DAY / $18 BOTH DAYS
ALL AGES
MUSIC - VISUALS
Friday July 22 (in order of appearance)
Azuria Sky - vaporstack
Dauragon - NO CARRIER
glomag - diy_destruction
Rockman - Claire Kwong
Saturday July 23 (in order of appearance)
Corset Lore - CHiKA
ZEN ALBATROSS - vaporstack
Auxcide - Jessen
Radio Wonderland
Directions:
Across the street from the 7th Avenue entrance to Penn Station and Madison Square Garden between 32nd and 33rd Sts.
Google Maps: https://goo.gl/maps/BNZa5YarKGR2
MUSICIANS (in alphabetical order)
Auxcide https://auxcide.bandcamp.com/
Azuria Sky https://azuria-sky.bandcamp.com/
Corset Lore https://8static.bandcamp.com/album/corset-lore
Dauragon http://music.dauragon.com/
glomag https://soundcloud.com/glomag
Radio Wonderland https://soundcloud.com/radio-wonderland
Rockman https://rockman.bandcamp.com/
ZEN ALBATROSS http://music.zenalbatross.net/
VISUALISTS (in alphabetical order)
CHiKA http://imagima.com/ https://vimeo.com/imagima
Claire Kwong http://clairekwong.com/portfolio_tag/video/
diy_destruction http://diydestruction-visuals.tumblr.com/
Jessen http://www.jessenjurado.com/portfolio/
NO CARRIER http://no-carrier.com/
vaporstack http://vaporstack.org/